Focussing on Deborah Davies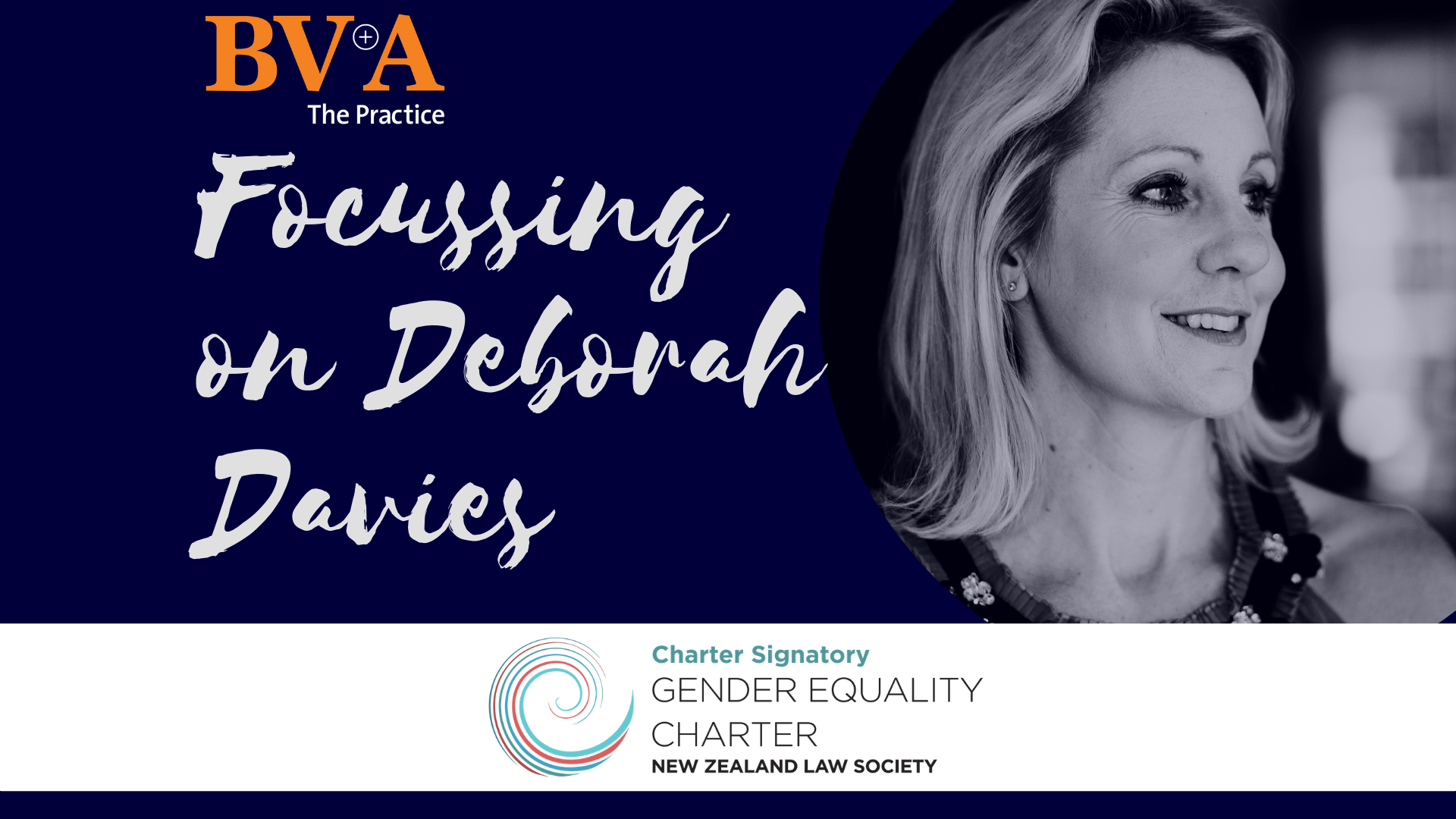 He aha te kai ō te rangatira? He Kōrero, he kōrero, he kōrero.
What is the food of the leader? It is knowledge. It is communication.
At BVA The Practice our whakataukī is integral to who we are and how we conduct ourselves every day. In this article we celebrate International Women's Day by sharing our commitment to the New Zealand Law Society Gender Equality Charter.
Today is International Women's Day. A day about celebrating the social, economic, cultural, and political achievements of women. It is also a call for the acceleration of gender parity. Although this is an apt opportunity to focus on our talented female lawyers, we are proud that gender parity is part of our everyday practices. As a signatory of the New Zealand Law Society Gender Equality Charter, we ensure that our people feel empowered to fulfil family, career, and personal goals at a pace that suits their individual needs.
Deborah Davies, a senior Crown prosecutor and mother, recently re-entered the workforce full-time after taking some time to have and raise a family. Family is incredibly important and plays a vital part in a person's well-being. So, when Deborah decided she was ready to have a family, BVA The Practice, under the leadership of Ben Vanderkolk, ensured that she would be able to invest as much time as she needed into her family. We believe that people should not be punished for choosing to have a family. Talent and expertise do not diminish with parenthood.
Deborah is a talented lawyer who offers a straightforward yet compassionate approach to her work. Once in a position to return to BVA The Practice, we made sure that she would be entering at the same level she was at before she left. We also acknowledged that flexible hours and a negotiable workload would be key to making sure that we could retain Deborah as a member of the BVA The Practice team. We made sure that we developed a beneficial working relationship for all parties. The transition from part-time to full-time was also available and accepted once Deborah felt comfortable and her children were school-age.
We take our commitment to the Gender Equality Charter very seriously. Our company strategic goals ensure the retention and advancement of our female lawyers. The charters focus on planning and taking action to include female lawyers in the future of the company. This is not just a tick box approach but rather a fundamental part of the values and culture of BVA The Practice.
Deborah Davies is currently writing an article about her experience with unconscious bias in court and as a crown prosecutor.
#BalanceforBetter