Emma Pairman: Te Reo in Our Legislation – Māori language week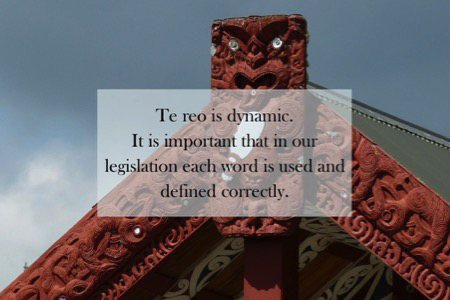 He aha te kai ō te rangatira? He Kōrero, he kōrero, he kōrero.
What is the food of the leader? It is knowledge. It is communication.
At BVA The Practice our whakataukī is integral to who we are and how we conduct ourselves every day. In this article Emma Pairman discusses the use and definitions of te reo in New Zealand legislation.
Languages are living as languages can die. Te reo Māori has faced a threat of extinction but with events such as Te Wiki o te Reo Māori a burst of life has been injected into the speaking and understand of this precious language. The prevalence of te reo will increase as people learn and use it more generally. Our legislation is a good place to start but it is important that the words used are carefully considered and meaningful.
As a summer clerk at the Parliamentary Council Office, I was part of a project to examine the use of te reo in New Zealand legislation. The purpose of this project was to better understand which words were being used, how frequently they appear, and the extent of their use. Throughout our legislation, words in te reo will either not have a definition or their definitions will be in-text or in the interpretation section. Another aspect of this project was to look at the consistency of these definitions.
Our investigation used the Māori dictionary to search through the legislation to cast a wide net and collect all te reo words. After applying various filters and excluding Māori specific legislation we focussed on the use of te reo in more general legislation. Our initial finding was that te reo is often used in isolation and occasionally with inconsistent definitions. Te reo is dynamic and the words often have intricately nuanced definitions, therefore, it is vitally important that te reo is used correctly and the words are defined properly.
It is important to not only understand what the word means but to have a real sense of the essence of the word. We should appreciate why the words are being used. Te reo should not be used haphazardly or thrown in just to show we can.
There are many perspectives about ways to incorporate te reo in our work and work places, however, it is imperative that we do it in a meaningful way that appreciates not only the linguistic structure and definition but the cultural meaning behind the words. At BVA The Practice we try to incorporate te reo in this meaningful way. We are aware that te reo can be used in a tokenistic manner. In our regulatory and resource management work, we are considerate of Māori culture, language, and land rights. Our values align with being culturally conscious and we will continue to seek guidance from our local iwi and do our part in preserving this special language.