Community Celebrates with UCOL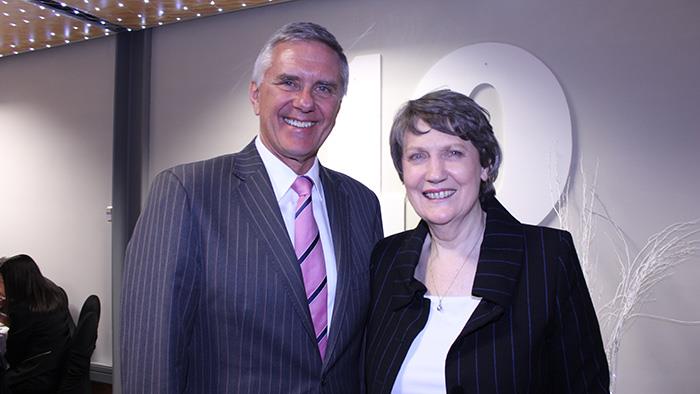 Published by UCOL
The UCOL campus was a buzz of excitement on Friday night as 120 people attended a special dinner to celebrate the last ten years of tertiary education on Taupo Quay.
The Rt Hon. Helen Clark opened the campus as Prime Minister of New Zealand in 2008 and returned as guest speaker on the night, together with Ken Mair and Mark Simmonds.
Opening with karakia by Kaumatua John Maihi, the night was a reflection of strong community involvement and commitment from Iwi, businesses, community leaders, schools, staff, and alumni. Campus Manager Bronwyn Paul organized the event and proudly greeted guests on arrival to a sea of glittering lights and formal seating arrangements.
During her guest speech, the Rt. Hon. Helen Clark said UCOL has a lot to be proud of, and she was impressed with the achievements of Whanganui and the polytechnic over the last ten years. Making mention of UCOL's highly regarded creative programmes, and nursing graduates who are embedded into the community, she reflected on her visits to Whanganui during her political career. She spoke of her career experiences, first as a university lecturer, in politics, and with the United Nations. She continues to be a strong voice for sustainable development climate action, gender equality and womens' leadership, peace and justice, and action on non-communicable diseases and on HIV.
UCOL Chief Executive Leeza Boyce acknowledged the special location of the campus close to the Awa and Pakaitore, and the contribution of Te Puna Matauranga o Whanganui to the creation and ongoing success of the campus. "We share an ongoing commitment to advancing Maori learner success. The ethos of offering students a modern, purpose built facility where they can study and pathway to higher level programmes has been achieved. Our staff and students win national awards and our alumni career achievements are impressive. "
Ken Mair, who also spoke at the campus opening ten years ago, acknowledged the work of leaders who were involved during the time the campus was built to achieve a fantastic result, and for their approach to resolving challenges with land on the old main campus. "The future is sound for UCOL. Matapihi ki Te Ao provides a great opportunity for the community."
Mark Simmonds, who was the last Chair of the Whanganui Regional Advisory Committee, spoke of strong connections with businesses and UCOL, and his high regard for students and their abilities. "They are bright, smart and incredible to work with."
Ben Vanderkolk, Chair of UCOL Council, acknowledged greater collaboration with iwi, the community, industry, and private training providers, and UCOL, resulting in new and stronger partnerships. "I am pleased to say that UCOL in Whanganui is doing very well and we see a bright future ahead. In 2017 UCOL achieved a surplus of $480,000, we are proud of this achievement as we were one of a handful in the polytechnic sector who did this. Our students are succeeding – a government survey shows 84% of UCOL graduates surveyed felt they were able to use the skills and knowledge learned, and 96% expressed their satisfaction with UCOL."
Today there are 956 students studying at UCOL Whanganui, and will soon reach 1,000. Over 30% of students are Māori, and almost half are under the age of 25. There are 75 staff on campus. UCOL has over 140,000 graduates since the first beginnings in 1902. More than 8,500 of these former students and graduates studied in Whanganui.
View the original article: here